Edible gifts are the best kind right? I especially like it if they come with the recipe attached so I made up some free printable recipe and Merry Christmas tags for my lemon curd. And then I bottled it up all cute like.
I made the lady's preschool teachers a little gift yesterday, using my microwave lemon curd recipe, some glass milk bottles and silicone baking thingies. I also printed up some recipe tags so they know what they're eating; surprise edible packages from four year olds aren't really something that anyone wants to receive right?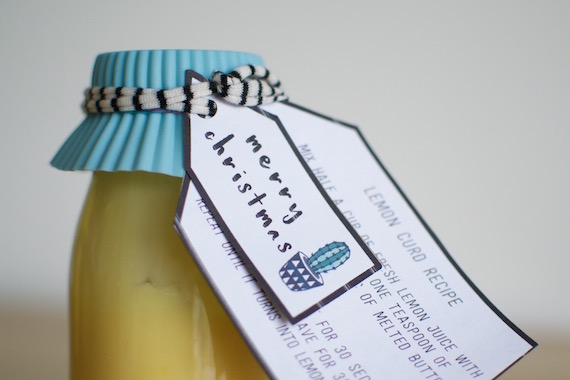 Then I made 'Merry Christmas' ones, because… tis the season. I figured you guys may want the printables. Do you?
I realise that your children's teachers are probably already kicking their heels up (AKA cleaning shelves, doing paperwork and fishing dead sandwiches out of weird spaces) and enjoying the sound of nothing in their classrooms right about now so this post probably comes a bit late for a teacher gift idea but teachers aren't the only people in the world that love a good edible gift.
Want to make them too? You will need to make the curd, grab some glass bottles, string of some kind, loom bands and silicone baking thingies. I got mine from Kmart. Next print out these recipe tags and these Merry Christmas tags onto some cardboard (or onto paper and then stick them onto cardboard) and cut them out.
Now fill the bottles, pop the thingies on, stretch some loom bands over the top then tie on the tags. Voila.
A loaf of lovely sourdough delivered with the curd would probably go down a treat too. That's what we did.