Holy hell it's really cold outside! I am really excited about Winter, but I have this problem, I can make cozy hot-chocolate-memories with my kids because one of them doesn't like chocolate.
It's all good though, I dreamt up some alternatives to hot chocolate to try and appease her and guess what!? She didn't like any of them. LOL – but you guys may.
The first is inspired by a childhood favourite of mine, the Coconut Rough – but it's sugar-free so if you're not a sugar-before-bed type of parent, you will like it. The second is inspired by New York Chef Christina Tosi and her cereal milk soft serve. And the last is a true sweet indulgence, enjoy.
And if you're looking for somewhere to imaginary drink your hot goodness, check out these reading nooks I would happily quit my life for. 
1. Sugar-Free Coconut Chocolate
Ingredients
1 cup of unsweetened coconut milk
Cacao to taste (we used about two teaspoons)
Rice malt syrup to taste (we used a tablespoon)
Whipped cream to top it
A pinch of cacao nibs
A pinch of coconut flakes.
Directions
Heat up your coconut milk in the microwave or on the stove top.
Add the cacao and rice malt syrup until you have the desired flavour.
Top with homemade whipped cream and sprinkle on the cacao nibs and coconut flakes.
If you want a lactose free option just leave off the whipped cream.
2. Hot Cereal Milk
Ingredients
1 cup of milk
1 cup of cornflakes
1 teaspoon of honey
1 teaspoon of hundreds and thousands
Directions
In a jug, soak your Cornflakes in the milk for 20 minutes.
Pour it all through a strainer and make sure to squeeze out all the milk.
Throw out the Cornflakes and heat up your cereal milk in the microwave or on the stove top.
Dip the top of your milk bottle in honey then the hundreds and thousands.
Sweeten your cereal milk with honey then pour it into the bottle.
3. Hot white chocolate and strawberry.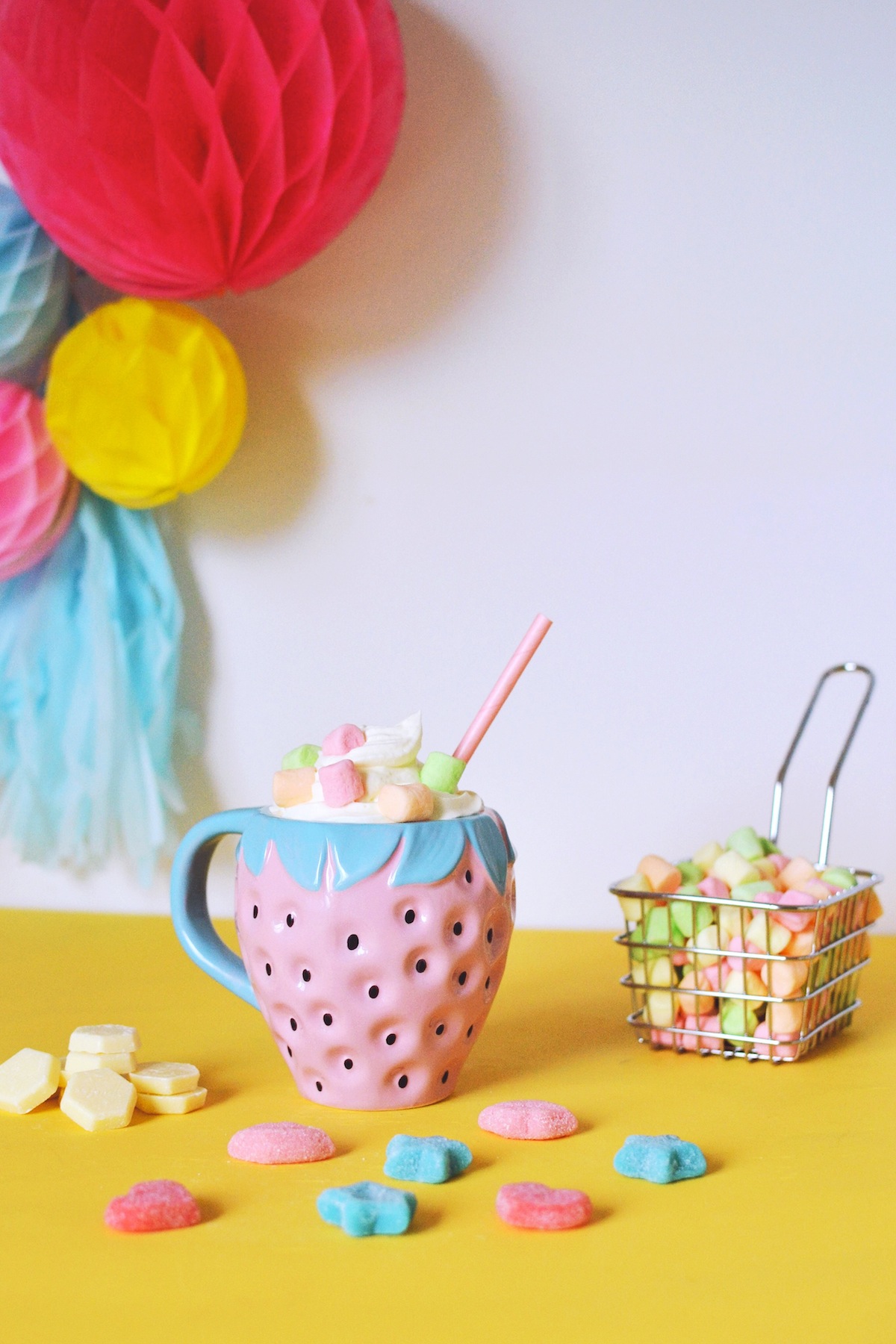 Ingredients
1 cup of milk
4 few squares of good quality white chocolate
Strawberry milk flavouring
Whipped cream
Lollies (optional)
Mini marshmallows
Directions
Heat up your milk in the microwave or stove top.
Add one heaped teaspoon of strawberry milk flavouring and your white chocolate.
Stir until combined and warm and pop in the marshmallows.
Pour it into a mug and top it with homemade whipped cream and lollies.