This post is sponsored by More Than Ever, win some lush bedding or nab a sweet discount code at the bottom of this post. 
I don't know about you, but my bedroom is my absolute sanctuary. It's not large, it's not fancy, there isn't an ensuite or walk-in wardrobe but it is the one place that is exactly how I want it to be in my house.
Throughout winter it feels cosy, there are throw blankets, candles and oversized cardies dumped all over the place. I LOVE how it feels in the winter. But as soon as it started to heat up, I decided that it was time for a refresh. Here are the five main things I recomend to freshen up you space for Summer.
Clean, clean and clean some more
Boo, I know. Clean your windows, vacuum under the bed, wipe down everything (especially the ceiling fan if you have one) then do it all again. Obvious, but extremely useful if you're looking to feel like you're in a tiny, private resort.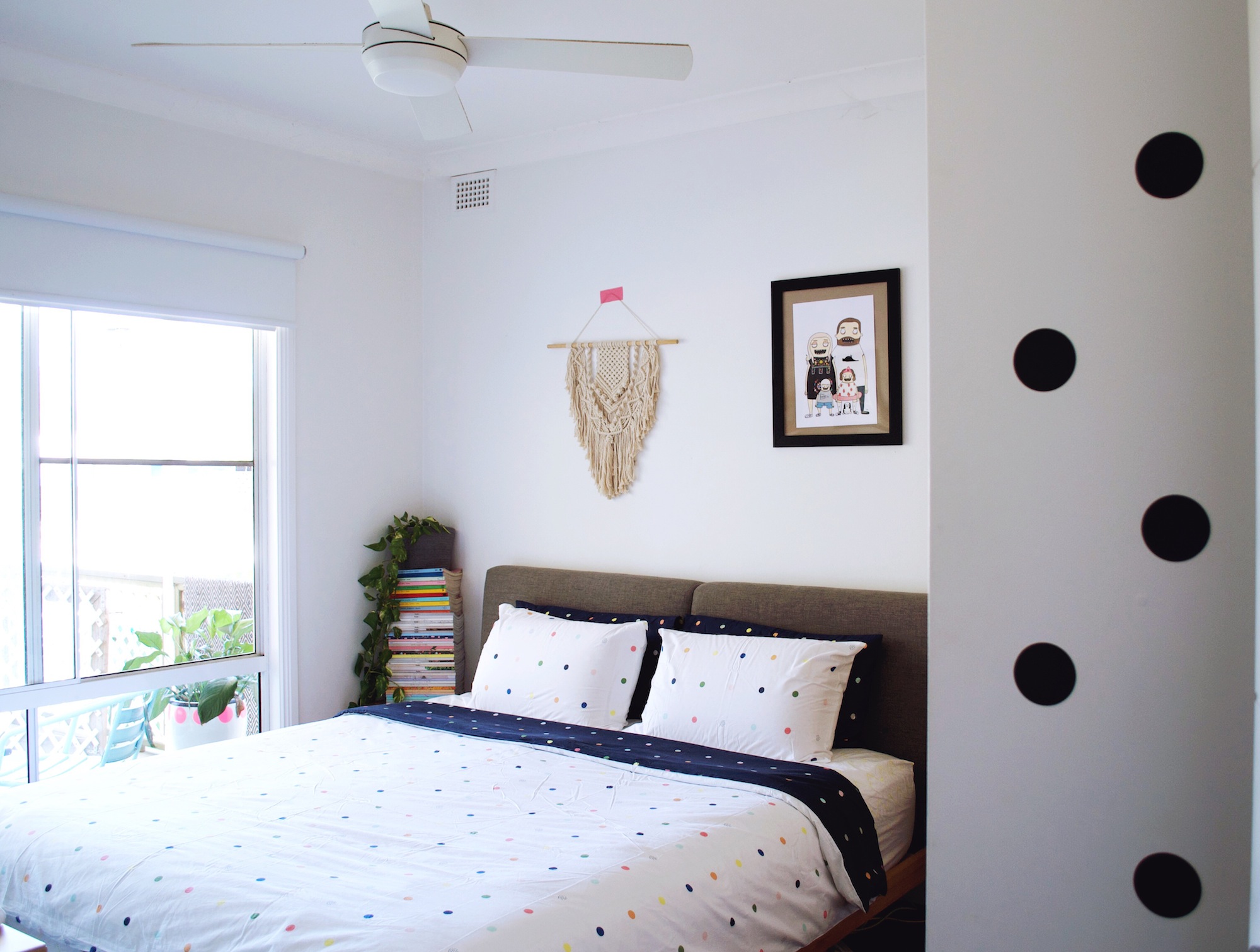 Remove things that need something from you
Strange, but hear me out. The pile of books on my bedside table that I hadn't read were really nagging me. I replaced them with magazines that I have already enjoyed and all of a sudden I owe my bedside table nothing. Also; now my pile should grow at the same rate my plant does, everyone wins!
Find fresh, bright bedding and put ONLY that on the bed
Summer is a time for sweat so if you have anything on your bed that can't easily be washed, now is the time to evict it. I took all throw pillows and rugs out of my room. Basically, if you're not permitted to lay your sweaty head on it, it's gone.
More Than Ever sent me this gorgeous bedding that's all fresh, bright, 100% Indian cotton percale and everything thing about it screams Summer. And now my bed is a sanctuary, not somewhere I'm constantly taking pillows off at night and putting them back on in the morning. If you want to grab some for yourself, they are giving Patchwork cactus readers 25% off their entire range for the next month! Just use the discount code CACTUS25 to nab a bargain or scroll to the bottom of this page to win some!
I really tried hard to shoot my bed without the kids in it, but the morning light is the best and it's rarely empty in the morning.
Get some nature inside
Having plants in a room does actually clean the air and that's cool but it also makes it feel super fresh. They also remind me to open up my curtains and windows earlier and put them down later. I know if my plants are looking a little sad, then they, and my room isn't getting enough light or air.
Cull your clothing
I'm a huge fan of the whole minimalist thing, but I am terrible at commitment. So the last huge declutter I did, instead of getting rid of all my stuff, I sent it to the shed in big stripy bags. That was 6 months ago. Knowing I wasn't actually getting rid of it really helped me be more cutthroat. Now I have extra space, so I actually have a place inside my wardrobe to chuck those clothes that have been worn but aren't dirty. More excitingly, my top drawer is completely empty so I can use it as my new 'benchtop'. It working surprisingly well AND I have more room for plants!
Enter this competition
So, if you would also like to freshen up your master bedroom we can help you out! The amazing sisters at More than Ever are giving away one flat sheet, one fitted sheet and a pillowcase set of your choice! Just visit More Than Ever's site, choose your faves and comment below to let us know what prints you would like to win! Make sure you're following both Patchwork Cactus and More Than Ever on Instagram too! Comp ends sometime in January when we all return from our relaxed Chrissy state. But until then, if you do find yourself perusing their goods, don't forget to use the code CACTUS25 (code can't be used on sale items or gift cards, and can't be used in conjunction with other codes)
All bedding featured is care of More Than Ever, bed by RJ Living, Macrame care of  Pinch Me Beautiful, Monster Family Portrait by Clair's Doodles and Squawk is dressed care of Oishi M.