Apart from the fact that it makes a cute V'day gift, this Montessori Card Sewing is a great exercise for fine motor control and for strength building of little hands.
Hi, thanks so much for popping by, I am going to share with you an activity that was always really popular in the three to six year-old Montessori classroom that I used to work in. Card Sewing. I have just introduced it to my little lady and she is totally obsessed, so I figured, with Valentine's Day coming up we would show you guys how to do it, with a heart card. But you can really do whatever shape you want, obvs. 
Ok, so let's start with the why. Apart from the fact that it makes a cute V'day gift, this sort of activity is great for fine motor control and strength building for little hands. Both of these things are perfect pre-writing activities because holding a pencil is hard, seriously, have you tried to write with a pen lately? 
The age group that can do this is huge, with help, a three year old can totally rock this, but if a kid of any age needs to work on their fine motor, or likes craft then the possibilities are huge. I often sew cards for birthdays and the like. Check out these hand sewn ones and these machine sewn cards - also great for Valentine's Day. 
Materials
Cardboard
A thumbtack or pin
A large needle (not too big to go through the holes the pin makes though)
Embroidery thread or thin wool
A piece of styrofoam or cork board to pop under the card
A marker and a pencil
Directions
Draw out a shape on a piece of card and put dots around, about 2cm from each other then set up the child on a small table. Show them the card and all the materials they need, telling them the name of each one and letting them lead the chat about them. There is no rush and it's a great chance to widen their vocabulary. Then show them how to poke a hole through the card then offer them a go.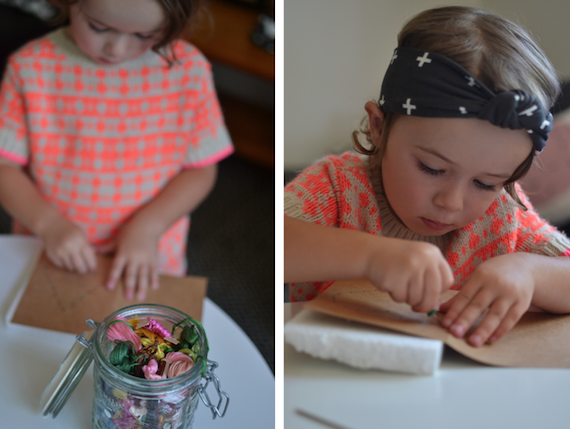 Next, when all the holes are poked through and they are done examining the back and front of the card over and over again, show them the already threaded needle with a knot at the end of the string (double the thread over and tie the two ends together so when they pull it through it can't come unthreaded – does that make sense?) and show them how to poke it through the hole and come out in another. Do about three stitches for them then ask if they would like a turn. 
This is the hard part, now you need to sit on your hands and bite your tongue. You have got to let them do it themselves. If they ask for direction give it to them, if they get all twisted up and ask for help to untwist it then go for it BUT if they are 'doing it all wrong' happily then just smile and nod. You can do it!
Scout is almost four and pretty particular so she wanted direction, she kept asking "in here now?" and "is this the right one" and there is nothing wrong with that, asking for help is a great skill, lots of adults don't even have it. But don't offer unless they start to get frustrated. For kids a bit younger or who have a more gung-ho personality they will happily do three wonky stitches and announce that they are finished. All good!
It is all about the process, not the outcome for this age group. I used to watch kids meticulously work on something for ages then not even want to pop it in their bag at the end of the day. Unless, of course it was something they wanted to take it home for Mum. Totally normal behaviour. 
Personally I'm happy either way, if I get a gift, great! But if not; it's her sense of achievement that is the motivating factor for her work, not the need to please others. Even better! On this note, I'm a big believer in praise but some Montessori people aren't. I do try to keep it more, "wow, what hard work you have done, was it very hard?" and less, "what a good girl, I love this beautiful art". Ya know, so it's not about me.

Wow, that was a bit of a digression, how unusual for me.
When they are finished sewing their card offer the option of doing another, repetition is so so great for their little hands and heads. If they aren't interested get them to pop everything on a tray and find somewhere to put it. We have a sideboard with all of her work in it.
Next, because I am attempting to have a prepared environment, I would restock the tray and leave it so it is ready for the next time she wants to do card sewing. But, each to their own, some people choose to pack it up and pop it in the craft drawer, whatever suits you! If you are interested in Montessori at Home, here are some more posts and activities I have written on the subject. 
*This Ted speaker found that an adult's praise and encouragement alone increased children's understanding of difficult topics from 30 percent to 50 percent.
If you enjoyed this post and want to give me a virtual fist bump you can follow me on Facebook, Instagram, Pinterest, Twitter or sign up to my Mailing List. You can also 'pin', 'share', 'tweet' or 'like' this post using the buttons at the bottom of the post, xoxo babs